Increasing Demand for Vaccination Services (Round 23)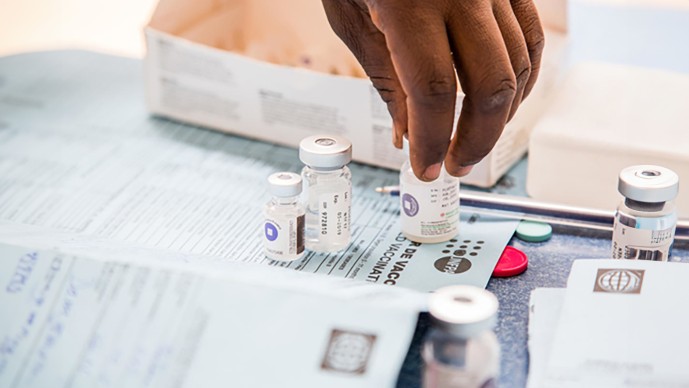 The Opportunity
Immunization represents one of public health's most valuable and cost-effective interventions, and delivers positive health, social, and economic benefits. Globally, an estimated 2-3 million child deaths and 600,000 adult deaths are prevented by vaccination on an annual basis. Vaccination has been shown to contribute to improved childhood physical development, higher educational outcomes, reduced poverty and household spending, and enhances equity (Deogaonkar et al. 2015; Verguet et al 2013). Furthermore, the return on investment (ROI) of money invested in immunization programs is significant: recent research has demonstrated that every USD $1 invested in immunization results in at least USD $16 in net health and economic benefits; when accounting for the economic benefits of living longer, healthier lives, this figure increases to $44 of net benefit (Ozawa, et al, 2016). Despite these successes, considerable gaps remain in our ability to fully vaccinate all children. As health care systems - and immunization systems in particular - evolve, we see an increasing opportunity to take lessons learned from other sectors to improve the efficiency and effectiveness of vaccination systems.
Despite the documented benefits of vaccines and immunization, global immunization coverage continues to stagnate, and we are off-track to reach the 2020 targets for coverage and equity articulated by both the Global Vaccine Action Plan, as well as the Gavi Alliance. We believe that "demand-side" factors have an increasingly important role to play in helping accelerate progress.
The Challenge
Within this call to increase demand for vaccination services, and thus increase the number of children vaccinated globally, we are looking for innovative ideas in the following specific areas (please specify whether your concept applies to the first, or second challenge, or both):
(1) Novel approaches for providing practical knowledge about vaccines and vaccination services to caregivers, which may include:

Familiarizing caregivers with information on where and when routine and/or campaign services are provided
Educating caregivers about how many times a child should be vaccinated and the importance of timely vaccination. Please explain how a proposed intervention would very tactically increase the knowledge of when a child needs to be brought in for his or her first, subsequent, or campaign-related vaccination. (Suggestions may include helping caregivers plan for completing subsequent visits.)
Addressing common concerns (multiple injections, post-vaccination discomfort) that may result in missed opportunities for vaccination
Empowering caregivers to ask for full vaccination services

(2) Novel ideas for improving the convenience and/or caregiver seeking of vaccination services; these may focus on:

Approaches that use human-centered design to improve the convenience of accessing services from a caregiver perspective
Approaches that minimize wait time for caregivers, such as scheduling appointments, providing information as to wait times, and/or providing information regarding stock availability (may be linked to electronic registries)
Approaches that reduce the "cost" of seeking services (i.e., time, lost wages, transport cost, discordance with social norms, etc.) while increasing the "benefit" (appreciation of vaccines, integrated services.) (Please exclude direct monetary incentives)
Approaches that provide an innovative "nudge" for seeking vaccination services and translating intention into action. (Please do not submit proposals based on SMS reminders given their current emphasis/on-going support in operational research.)
What we are looking for:
Successful proposals will include:
A clear hypothesis underlying the proposed approach to improve immunization programs and/or improving the user experience of beneficiaries;
Details on the design and pilot testing of the approach in their application, including proposed pilot location.
A plan for evaluating the effectiveness of the approach for improved measurement of the immunization program and/or improving the user experience of beneficiaries;
Outline of the design of the proposed approach/intervention; and,
Innovations that involve building on, disrupting, or adapting existing systems. Successful proposals will describe how their approach would work within existing health systems or what change would need to occur within health systems for their approach to be effective.
Additionally, we will consider proposals in low-income countries that:
Are based on human-centered design principles
Utilize latest thinking in social, economic, and behavioral research
Do not increase burden upon frontline health workers
Minimize perverse incentives (including incentives for falsification)
Are relevant in multiple developing country settings
Constitute transformative rather than incremental improvements and are deliverable and scalable in low-income countries
We will not consider funding for:
Innovative ideas without a clearly-articulated and testable approach;
Approaches not directly relevant to low-income settings;
Approaches reliant upon financial incentives;
Solutions focused solely on SMS reminders;
Approaches that rely on traditional information, education, communication approaches;
Approaches that rely on traditional social mobilization approaches;
Approaches for which proof-of-concept cannot be demonstrated within the scope of the GCE Phase 1 award ($100,000 over 18 months);
Applications that can only be applied in a single country that are not broadly applicable in multiple countries;
Approaches that present significant data safety risks (for mobile solutions, these risks must not be greater than the relative risk inherent in developed world mobile payment systems);
Approaches which would require a donor's long-term financial support to sustain.
---