Aid is Working. Tell the World. (Round 10)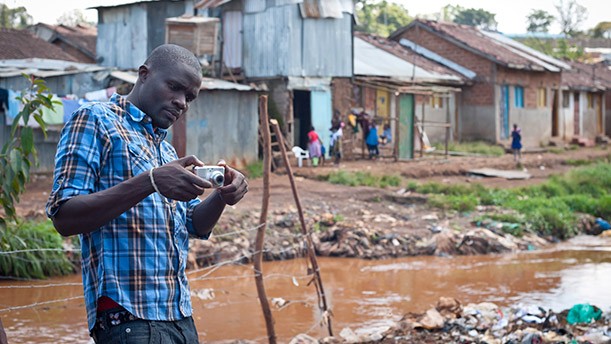 In Partnership with the Cannes Lions International Festival of Creativity 
Overview
In February 2012, we issued a call for proposals to help us find revolutionary approaches to communications that could motivate the public in wealthy countries of the world to support foreign aid investments and take action to demonstrate that support.  
The world responded, and we're deeply inspired by the proposals we received. We will announce the winners in November 2012.  
Grand Challenges Explorations Round 10 builds on the results of our Round 9 challenge. It focuses again on communicating the importance of investments to support global development, but presents four specific submission categories for grant seekers. We hope these will ignite new ideas and unique responses from the global community that the Bill & Melinda Gates Foundation can support as part of its overall mission to alleviate global poverty. 
We are focused on identifying and supporting new ways to communicate the impact of investments provided by a range of resources including: world governments, the private sector, developing country resources, direct investments, private donors, official development assistance (ODA), and large-scale development programs.  
Insight
The relatively small amount of money invested in development has changed the future prospects of billions of people—and it can do the same for billions more if we make the choice to continue investing in innovation….we are convinced that when people hear stories of the lives they've helped to improve, they want to do more, not less. – Bill Gates, 2012 Annual Letter 
Challenge 
Ending extreme hunger and poverty and improving the health of the poorest people around the world will require massive public support of programs and initiatives aimed at solving these problems, which have successfully demonstrated their effectiveness on-the-ground.
Most people already believe that helping others throughout the world have the opportunity to live a healthy and productive life is the right thing to do. But many also believe that most of the support currently provided, especially foreign aid from rich governments, is not well-spent or is not having a positive impact. Therefore, we need to do a better job of explaining what investments in global development are, how they work, and the real changes they can lead to when delivered effectively. Communicating this to the world will help build greater international support for ongoing investment that can improve the lives of poor people.
What We are Looking For
The goal of this challenge is to identify new ways to motivate the world's citizens to show their ongoing support for investment in the developing world, by highlighting the extraordinary progress already being made to meet international development goals, such as: ending extreme poverty and hunger, reducing childhood mortality, improving maternal health, and combating HIV/AIDS, malaria, and other diseases.
Evidence demonstrates that aid has a greater impact when it is used in combination with, or to catalyze, engagement from others, including developing country governments, the private sector, social entrepreneurs, and other forms of investment. Therefore, we welcome and encourage ideas that demonstrate both the progress and potential of these partnerships, and debunk cynical views about the effectiveness of aid and other investments in global development.
We invite proposals that deliver innovative ideas, and will give preference to those that show a compelling plan for how to distribute and scale the ideas and sustain public engagement around investments in global development.
We Are Accepting Proposals With An Emphasis in Four Areas:
Mobile: We seek proposals for projects that will activate these emerging mobile networks and engage users, through basic and smart phone technologies, in ways that build support in wealthy economies for development efforts in places they are needed most. We seek proposals for projects that not only use mobile technology to gather and tell stories, but also compel people to collaborate and take action.
Data: The emergence of Big Data and web services provide new opportunities to understand and talk about development. We seek proposals for projects that produce new analysis of and insights to existing data about the impact of development efforts, and that use it to tell compelling, new stories about how those investments enable progress in the developing world. We seek proposals that include strategies for how to interpret, visualize, organize and communicate data to audiences.
Young audiences: We believe it is critical to engage the next generation of global citizens in strategies to address development challenges. We seek proposals for projects that will increase youth awareness of global development challenges and that can prepare young people in the north and global south to be informed advocates and leaders in creating solutions for these problems. Proposals must include specific information about how the program will address specific global development issues, which youth audiences the project will reach, how it will activate those audiences, and why.
The Progress of Development: When spent wisely, aid and other investments have helped countries lift themselves out of poverty and end their reliance on assistance from donor nations. We seek proposals for projects that show the virtuous cycle of development efforts, at both micro- and macro-levels: how the beneficiaries of aid are using it to become self-sufficient (for example: small farmers who, by increasing their productivity, are able to send their children to school), and how countries that were previously supported through aid investments, are now providers of aid and other kinds of support for other nations (foreign aid graduates).
We will not consider funding for:
Projects not aligned with the foundation's goals in health and development;
Projects centered entirely around donations made by individuals to support development efforts;
Single pieces of content that are not supported by a robust engagement strategy;
Projects focused on crisis response or emergency relief 
Basic research without a clear objective to solve a communications problem;
Solely behavioral change/educational initiatives (e.g., training programs, scholarships, education programs);
Solely infrastructure or capacity-building initiatives;
Projects earmarking foundation funds for lobbying activity (e.g., attempts to influence legislation or legislative action) or efforts to influence political campaigns for public office;
Projects that focus on a specific location or community, without a plan to expand the program more broadly.
How We'll Evaluate Proposals
Proposals will be reviewed against the following criteria:
Response to the topic: Does the proposal address the challenges described in the topic? Please note the types of projects that will not be funded, above;
Innovative approach: Does the idea solve a common problem in an uncommon way or provide a creative approach to the problem outlined in the topic? Does it demonstrate application of a new or pioneering approach? Does the proposal describe how the project varies from current approaches, offers new premises or hypotheses to test?
Expectations for success: Does the proposal include a clear and realistic rational for success?
About Our Partnership
The Bill & Melinda Gates Foundation has partnered with the Cannes Lions International Festival of Creativity to issue this call for proposals in Round 10 of its Grand Challenges Explorations program. Cannes will help the foundation promote the call to the creative community.
In addition, Cannes Lions has created a group, the Cannes Chimera, made up of one creative representing the agency who produced each of the 2012 Cannes Grand Prix winning pieces of work, who will advise the program, review submissions, and mentor the winners as they develop their projects.
---