2019 Grand Challenges Annual Meeting Call-to-Action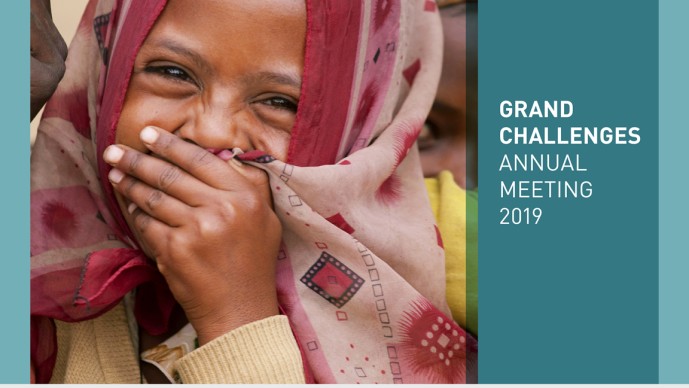 Date open: 30 Oct 2019 | Deadline: 5 Dec 2019 - 11:30am PST
**NOTE: This opportunity is only open to participants who registered for and attended the Grand Challenges Annual Meeting in Addis Ababa, Ethiopia.
The Opportunity
We believe the Grand Challenges Annual Meetings present a great opportunity to engage some of the brightest scientific minds, learn about challenges in global health and development, and explore new approaches and catalyze collaboration to accelerate innovation for impact in solving the world's most urgent global health and development problems. In Addis Ababa, the Grand Challenges meeting convened a diverse set of organizations and participants across the 11 content-area tracks listed below (see the 2019 GC Annual Meeting Agenda for full track information). In addition to the scientific track sessions, the meeting included inspiring plenary talks, poster sessions, and plenty of opportunities for connection, discussion, and learning. But an engaging meeting is not enough; we also seek tangible outcomes. The meeting should inspire members of the Grand Challenges community to drive forward high-risk, high-reward ideas to address the biggest health and development challenges.
To maintain the meeting's spirit of accelerating innovation to impact after the meeting ends, we are providing a grant opportunity to build on your participation in the Grand Challenges meeting.
With the meeting location in Addis Ababa, and the Ethiopian Ministry of Health and African Union among the meeting co-hosts, we seek to continue the meeting's focus on the capacity and strengths of the African innovation, research, and development ecosystem.
The Challenge – a Call to Action
While at the Addis Ababa Grand Challenges meeting, did you…
meet a new collaborator and develop a plan of action?
learn about a new problem you think you can solve?
learn something new that you can apply to the problem you are currently working on?
If so, we want to see your best idea! We invite you to submit a two-page application that proposes new work on a topic relevant to any of the meeting tracks and describes how it is grounded in the inspiration, information, and perspective you gained through your participation in the meeting.
In determining the proposals to fund, we will prioritize proposals that include new collaborations, particularly those that involve expertise, infrastructure, and/or capacity based on the African continent.*
Each eligible meeting participant will have one (1) opportunity to apply as the Primary Applicant. Primary Applicants have two funding levels to choose from:
$200,000 USD Collaborative Pilot award; or
$100,000 USD Pilot award
Both funding levels will have an 18 month grant term. Collaborative awards require the participation of at least two GCAM participants from different institutions. While restricted to one application as the primary applicant, eligible meeting participants may participate as collaborators in multiple collaborative pilot applications. Priority will be given to new or newly expanded collaborations, rather than to existing partners seeking new funding. See the Call to Action Rules and Guidelines [here] for more information.
Please note that while Pilot and Collaborative Pilot proposals were received in roughly equivalent numbers last year, reviewers were more excited by new collaborations. The award announcement and final portfolio from the Call to Action 2018 reflect that prioritization, and we expect similar results from this call.
Timeline
We seek to harness the energy and excitement of the meeting to test creative new ideas or new collaborations fostered by the meeting. To that end, proposals will be due on December 5, 2019 (one month from the meeting close), and we anticipate funding decisions to be made in the first quarter of 2020.
2019 GCAM tracks
African Innovation Research and Development Ecosystem
Crop Productions Analytics at Scale: Innovations in Ground Truthing
DevelopmentXChange: Accelerating Adoption of Maternal and Newborn Global Health Innovations
Gender Norms and Programmatic Impact
Growth and Resilience: Optimizing Birth, Growth and Development
Improving Development Outcomes with Digital Tools
Leveraging Pathogen Genetic Sequencing in Africa
Optimizing Drug Discovery and Translation
Pest and Disease Surveillance and Epidemiology
Scaling Innovation with a Gender Lens
Vaccines and Global Health Technology
Applicants are strongly encouraged to review the track abstracts provided in the 2019 GC Annual Meeting Agenda. Abstracts can be found beginning on page 6. The most common reason for declined proposals last year was a lack of fit with the meeting content.
Apply
Please find application instructions here and submit your proposal here. We look forward to reading your application.
---