Blog Post
Grand Challenges: Partnerships for Solving Today's Problems and Tomorrow's
Kedest Tesfagiorgis, Oct 19, 2020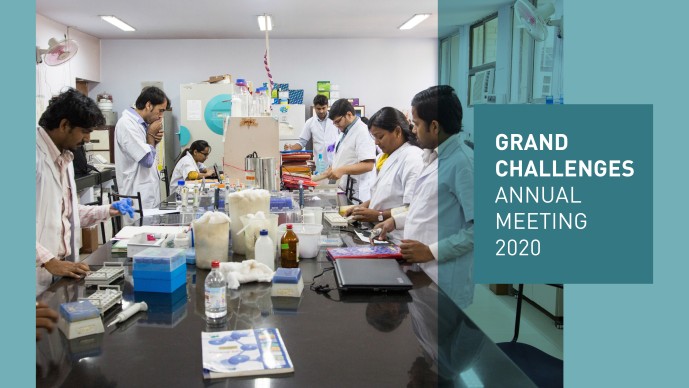 There's a creative principle that "form follows function," and it holds true for this year's Grand Challenges Annual Meeting. The function: Thousands of innovators from all over the world come together to figure out how to address the challenge of COVID-19 - and how to use its lessons to address other urgent challenges in global health. The form: Our first ever virtual meeting, across approximately two dozen time zones.
In the past six months, the global health R&D community has seen the rest of the world come around to its point of view en masse -the future depends on the world's ability to invent and deliver health solutions. From October 19-21, we hope that many of the people actually doing the inventing and delivering will build on that shared sense of urgency to create a short-term agenda for COVID-19, a medium-term agenda for epidemic preparedness and response, and a long-term agenda for global health and development equity.
We are keeping many features of the meeting that participants have come to know and love, including plenary sessions with leaders from across sectors, cutting-edge scientific roundtables, and scientific tracks covering a range of priorities. We are also adding new features to take advantage of our virtual platform, including GC TV, a networking lounge, and a GC Library.
In this crisis, we've seen innovation happening faster than ever. Health researchers have worked together in new ways to generate breakthroughs. These new models of partnership don't have to be just a one-off response to a single disease. They can form the basis of a more collaborative approach to global health that improves the world's response to every disease. We are optimistic that this year's Grand Challenges Annual Meeting can trigger the conversations that need to happen to leverage these advances.
The Annual Meeting is a joint enterprise, and this year we especially want to thank a few partners. India's Biotechnology Industry Research Assistance Council (BIRAC), which administers Grand Challenges India. Before the pandemic, BIRAC planned to co-host this year's meeting in New Delhi. When it became clear that this would be impossible, BIRAC didn't waver, and we are pleased to include a focus on the Indian experience in many aspects of the meeting. We are supported by several more key partners, including the Government of India's Department of Biotechnology (DBT) and National Institution for Transforming India (NITI Aayog), and the Indian Council of Medical Research (ICMR).
WomenLift Health is co-hosting the second day's plenary session and Keystone Symposia is co-hosting the third day's. Our partnership with WomenLift Health began last year, and we are pleased to see it growing this year.
We also thank our long-standing global funding partners USAID, Wellcome Trust, and Grand Challenges Canada, as well as the growing number of Grand Challenges initiatives that are enabling governments to fund local innovation for impact, including in Africa, Brazil, China, Ethiopia, India, Israel, Japan, Peru, South Africa, South Korea, and Thailand.
This year's plenary sessions will feature heads of state, heads of companies, and heads of laboratories, all discussing COVID-19, pandemic preparedness, and the future of global health R&D. The roundtables will cover everything from cloud computing and its uses in development to design thinking for gender equality. The scientific tracks are as diverse as ever, with a focus ranging from Addressing Challenges to Manage COVID-19: The Indian Experience to Leveraging Pathogen Genetic Sequencing. Finally, attendees will have an opportunity to apply for the Annual Meeting Call-to-Action, a Grand Challenges experiment launched two years ago by Trevor Mundel, Gates foundation President of the Global Health division, to spur new collaborations during the meeting.
Also launching at the meeting are three new Grand Challenges requests for proposals. Their goal is to harness innovation around emerging technologies for transformative solutions to key global health and agricultural development problems, and they seek to anchor the work with the investigators and implementors closest to the problems.
Underlying the project of global health is the idea of mutuality. One way or another, we are all in this together. We've seen the downsides of that reality. One sick person over there eventually means many sick people right here. But we are also seeing the beauty in mutuality. No one is safe until we're all safe. And that's why we've seen a historic outpouring of creativity and devotion from every corner to make sure that we are all safe, no matter who we are, no matter where we live, no matter how little money we have.
You can follow the Annual Meeting on the foundation's social media channels and with hashtag #Grandchallenges. Thanks to all for working so hard to make sure that every single human being receives the full benefit of scientific progress.