Blog Post
Grand Challenges: Going Farther and Faster Together
Kedest Tesfagiorgis, Oct 21, 2019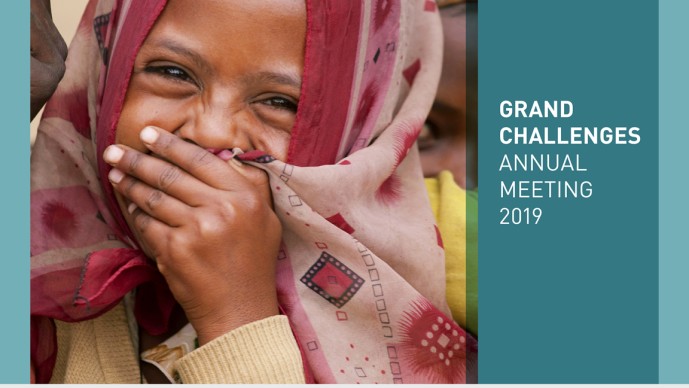 At last year's Grand Challenges Annual Meeting in Berlin, we were privileged to be joined by Chancellor Angela Merkel, who emphasized in her keynote talk that health is "a shared task, a global task." Those words resonated deeply with us, because they speak to the heart of the Grand Challenges mission – to engage the world's best minds and to build partnerships to solve the hardest problems faster.
This year's Annual Meeting is noteworthy not because it's the 15th, but because we are bringing the meeting back to Africa for the first time in 10 years – following meetings in Tanzania (2009) and South Africa (2007). From October 27-30, more than 1,000 leading researchers, funders, and policymakers from Africa and around the globe will convene in Addis Ababa, Ethiopia. Across plenary talks, scientific sessions organized into meeting tracks, poster sessions, and strategic side meetings, we plan to facilitate opportunities for leaders in science, philanthropy, and policy to brainstorm the next big ideas and forge partnerships for action.
As in past meetings, we will also take a hard look at how we can go faster together. With the 2030 Sustainable Development Goals (SDG) deadline just over a decade away, we need to find ways to work together more efficiently to accelerate progress on key priorities. Across the African continent, a strong, integrated research and development ecosystem will be crucial to unlocking the solutions needed to meet SDG targets and tackling the continent's biggest health and development challenges, ultimately improving the lives of more than a billion people on the fastest growing continent. There is great potential in the African scientific community, with established leaders and talented young researchers across the continent focused on developing innovative solutions to save and improve lives.
The Annual Meeting is a joint enterprise, and this year we thank the Bill & Melinda Gates foundation's Ethiopia office as well as the global Grand Challenges community, including our long-standing global funding partners USAID and Grand Challenges Canada, the three current Grand Challenges initiatives in Africa – Grand Challenges Ethiopia, Grand Challenges South Africa, and the pan-African Grand Challenges Africa run by the African Academy of Sciences, and the growing number of initiatives that are enabling governments to fund local innovation for impact, including in Brazil, China, India, Israel, Japan, Peru, South Korea, and Thailand. The Grand Challenges family of initiatives has truly become a global movement.
Participants in this year's meeting in Addis will have the opportunity to attend diverse scientific tracks – with a focus ranging from the African Research and Development Ecosystem to Leveraging Pathogen Genetic Sequencing in Africa to Agricultural Pest and Disease Surveillance and Epidemiology - as well as three plenary sessions featuring African heads of state, global scientific leaders, and researchers from across the African continent. Participants will also have an opportunity to apply for the Annual Meeting Call-to-Action, a Grand Challenges experiment launched at last year's meeting by Trevor Mundel, Gates foundation President of the Global Health division, to provide the chance for meeting participants to quickly convert new ideas and collaborations into action. The 2018 call-to-action ended up funding 17 projects.
Every day when we come to work at the Gates foundation's Seattle office, we see displayed an African proverb that reads: If you want to go fast, go alone. If you want to go far, go together. We humbly suggest that the Grand Challenges family of initiatives – and the Annual Meeting that serves them – provides a way to do both: to go far and fast together. You can follow the Annual Meeting on the foundation's social media channels and with hashtag #Grandchallenges. Thanks to all working to address global health and development inequity.