Create New Ways of Protecting Against Infectious Diseases (Round 1)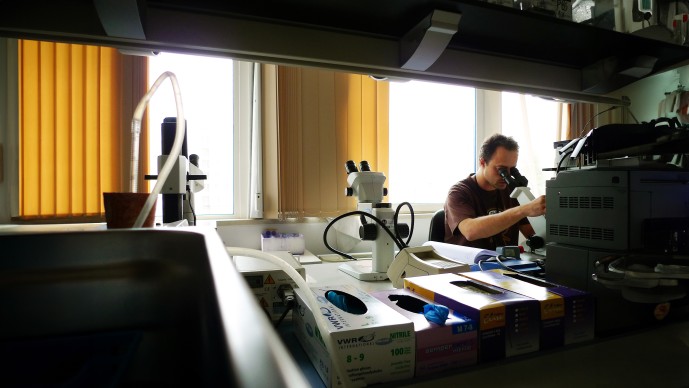 Roadblock:
Vaccines have been a cornerstone of global health campaigns to provide protection against infectious diseases. However, discovery of new vaccines currently relies on a long and costly process of trial and error, and this approach has an uneven record of success. The proliferation of novel antigens, adjuvants, and formulations requires new methods to more reliably select those entities that will elicit protective immune responses in humans.
The global health community also needs new ways to protect against infectious diseases that do not resemble traditional vaccines. Vaccines and other prevention measures currently are dependent upon the limitations of the human immune system. Such dependence places a fundamental restriction on the solutions developed against HIV, malaria, TB, diarrhea, and pneumonia. We need new ways of pushing past these obstacles in vaccine discovery to expand the range of health interventions that protect against infectious diseases.
What We're Looking For:
The goal of this topic is to solicit untried or unproven approaches to identify effective antigens, novel methods, or agents to generate an immune response in order to move the best candidates forward into clinical development. Unconventional approaches to effectively harness the immune response or create synthetic immune response to protect against infection and disease will be considered. Generic approaches are of highest interest, although approaches specific for HIV, malaria, TB, diarrhea, and pneumonia are also solicited. We seek proposals "off the beaten track," significantly radical in conception, and daring in premise. 
A few of the many options to be considered include:
Reliable design and selection of antigens and adjuvants including the understanding of the molecular mechanisms by which adjuvants stimulate the immune system;
Alternative approaches to effective presentation of antigens and other key stimulating factors;
New computational or laboratory-based systems for rapidly testing vaccines and predicting their efficacy;
Applications of radically new technologies for disease protection, such as production of immunogens using synthetic biology or radical genetic engineering approaches;
New approaches that employ multiple interventions in combination;
Approaches to the generation of immunity at an individual or population level.
We will not consider funding for:
Projects focused on discovering targets of a disease prevalent in the developed world;
Identification of HIV, TB or malaria antigens without the addition of ways to radically and reproducibly improve their effectiveness or efficiency;
Current methods for vaccine discovery, development, or delivery;
Projects targeting molecular pathways targeted by currently available adjuvants or adjuvants currently in clinical development.
---