COVID-19 Research and Development Priorities in Africa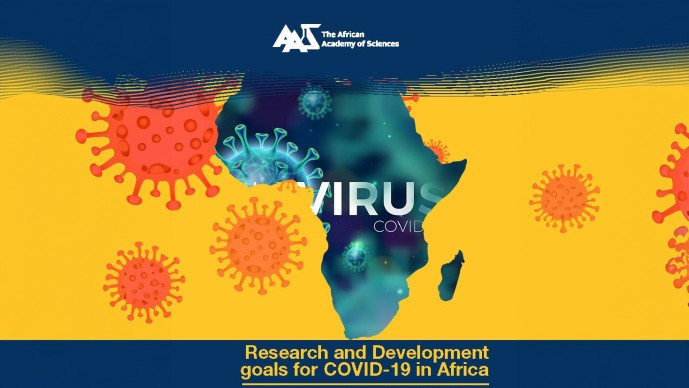 Note: This call for applications was targeted at persons already holding a grant or a sub-grant in the DELTAS Africa, Grand Challenges Africa, H3Africa, FLAIR or any other program of the AAS.
BACKGROUND
The COVID-19 pandemic has brought unprecedented challenges for Africa, with every country potentially at risk for unmitigated spread of SARS-CoV2. Like most health systems in the world, there is a risk for current levels of care to be overwhelmed by sheer volume of patients requiring intensive care and ventilatory support. In addition, health care workers are at risk of acquiring SARS-CoV2 and given limited infection control practices in many settings, there is also risk of nosocomial transmission of SARS-CoV2 among patients.
The African Academy of Sciences (AAS) is keen to play a central role in building African Research and Development (R&D) capacity to fight COVID-19 by managing day-to-day running of the proposed fund for COVID-19 R&D priorities in Africa. A recent survey of African scientists conducted by the AAS developed initially from an AAS "All Hands" webinar on COVID-19 held on 26th March 2020 and conducted from the 4th to 8th of April 2020 established a priority list of Research and Development questions for the COVID-19 outbreak in Africa. The results of the survey can be found here.
This call, supported by Sida (Sweden), Wellcome Trust, and the Bill and Melinda Gates Foundation, is, therefore, a call to action for African scientists to attend to the research and development needs of the COVID-19 outbreak for the continent as identified by African scientists. There is need to provide robust scientific evidence to the country emergency response teams. The priorities listed are widely applicable across the continent yet require local context and expertise in order to address in a timely and effective manner the issues arising even as the outbreak evolves.
The call is open to institutions that are based in Africa.
Objective
This call will focus on areas of priority for research and development in COVID-19 outbreak control as identified by African scientists. These areas of focus include but are not limited to;
Epidemiological studies;
Clinical management;
Infection prevention and control, including health care protection;
Candidate vaccines, diagnostics and therapeutics;
Ethical considerations for research;
Social sciences in a pandemic response.
To be more specific, below is an example of priority questions for this call. Questions that seek to deliver any of the below will be prioritized. For reference please check the results of the AAS COVID-19 survey here.
Understand the effectiveness of movement control strategies to prevent secondary transmission in health care and community settings;
Optimize the effectiveness of PPE and its use in reducing the risk of transmission in health care and community settings;
Develop new PPE approaches using local materials and manufacturing processes;
Understand behavioral and cultural factors influencing compliance with evidence-based Infection Prevention and Control measures;
Describe the transmission dynamics of COVID-19 and understand the spread of disease nationally, regionally and globally;
Describe disease severity and susceptibility to facilitate effective clinical and public health response to COVID-19 identify groups at high risk of severe infection;
Perform rapid population cross-sectional surveys to establish the extent of virus transmission using a standardized sampling framework;
Establish suitable cohorts and prospectively collect laboratory and outcome data;
Have a special focus on potentially at-risk groups including malnourished individuals and people with HIV, TB, Sickle Cell, and uncontrolled chronic disease patients;
Evaluate the impact of control and mitigation measures e.g., modelling to estimate the effects of social distancing measures and other non-pharmaceutical interventions;
Develop protocols for the management of severe disease in the absence of intensive care facilities;
Determine interventions that improve the clinical outcome of COVID-19 infected patients;
Determine optimal clinical practice strategies to improve the processes of care e.g., develop criteria for early diagnosis, when to discharge, when to use adjuvant therapies for patients and contacts;
Develop innovative approaches to use as alternatives to ventilation;
Identify prognostic factors for severe disease;
Develop platform(s) to maximize the commonality of data collection across trials, and collaborations between trials;
Define the natural history of COVID-19 infection through careful standardized and comprehensive clinical and laboratory description of cases;
Determine how best to link key research questions with researchers in affected regions who are able to recruit patients;
Develop mechanisms to support coordinated collaboration to implement clinical trials for evaluation of safety/efficacy of therapeutics;
Develop a Multicenter Master Protocol to evaluate efficacy and safety;
Identification of existing candidates for clinical evaluation in addition to the ones already prioritized;
Support basic science to identify new drug targets;
Develop a multi-country Master Protocol for Phase 2b/Phase 3 vaccine evaluation to determine whether candidate vaccines are safe and effective before widespread distribution;
Build capacity development for basic science and pre-clinical development of new vaccines;
Identify therapeutic candidates for clinical evaluation in addition to the ones already prioritized;
Establish processes for speeding up an ethical review of COVID-19 related research proposals;
Establish a panel of African ethicists to provide rapid support to local ethical committees assessing COVID-19 related research proposals;
Define a research governance framework that enables effective and ethical collaboration between multiple stakeholders, including WHO, the global research community, subject matter experts, public health officials, funders, and ethicists;
Sustained education, access, and capacity building to facilitate effective cross-working and collaboration across the research thematic areas;
Identify key knowledge gaps and research priorities in relation to ethical issues arising out of proposed restrictive public health measures (e.g., quarantine, isolation, cordon sanitaire);
Support work to develop cheaper, faster easier to use in field antigen tests (for virus detection);
Support work to develop cheaper, faster easier to use in field antibody tests (for determining exposure);
Support the development of diagnostics products to improve clinical processes;
Support work to examine alternative approaches to delivering testing e.g., centralized versus devolved lab facilities;
Characterize immunity (naturally acquired, population and vaccine-induced, including mucosal immunity);
Develop tools and conduct studies to monitor phenotypic change and potential adaptation of the virus;
Establish capacity for genotyping virus e.g., to detect new mutations over time;
Pathogen genetic sequencing and network development that primarily responds to SARS-CoV-2 public health response according to this document;
Determine virus stability in the environment;
Understand virus compartments, shedding and natural history of the disease;
Develop disease models in animals;
Examine optimal ways of communicating about potential interventions in high-density low socioeconomic status urban settings;
Ensure that knowledge is produced according to local, national and regional needs;
Investigate ways of ensuring transparency of information flow and mitigating false information spread by various mechanisms;
Develop guidelines and Standard Operating Procedures (SOPs) to operationalize epidemic mitigation mechanisms;
Engage with communities to bring their voices to decision-making processes;
Develop and connect global research networks with response partners;
Understand how social and economic impacts need to be mitigated;
Investigate innovative approaches to short-term economic support of vulnerable populations such as cash transfer by mobile money mechanisms;
Promote the prioritization of knowledge needs according to epidemic dynamics;
Develop innovative interdisciplinary science;
Ensure that non-social scientists easily understand knowledge outputs and methodological limitations;
Support work to understand the non-intended consequences of epidemic-control decisions;
Support work to understand contextual vulnerability of work in COVID-19 outbreak control;
Understand how decisions in the field may inadvertently undermine response goals;
Design and test suitable risk reduction strategies at the human-animal-environment interface;
Improve the understanding of socioeconomic and behavioral risk factors for spill-over and transmission between animals and humans;
Identify animal source and route of transmission (hosts, any evidence of continued spill-over to humans and transmission between animals and humans).
We will not consider funding for:
Projects that do not primarily respond to the research and development goals of the COVID-19 public health outbreak response;
Projects focusing on implementation or delivery services for the COVID-19 outbreak control;
Projects solely focused on network building, capacity building and infrastructure projects without a working hypothesis;
Complex and high-risk projects that cannot be undertaken within the 24 months available;
Projects with minimal contribution towards the R&D priorities of the COVID-19 outbreak.
Funding Amount
The maximum amount allowable for a single grant is US$200,000 to be held for two (2) years.
---