Blog Post
Measuring What Can't Be Counted
Jodi Nelson, Ritu Shroff, Oct 7, 2014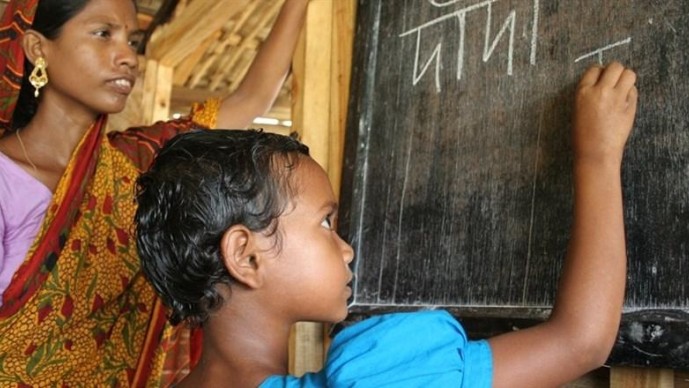 This week's launch of the Putting Women & Girls at the Center of Development Grand Challenge is an opportunity to identify new, better ways to reach and empower women. We already know that empowered women tend to make better decisions about their own and their families' health and well-being. But there is little consensus on what success looks like, how best to empower women and how to design programs that integrate empowerment as a means to achieve health and development outcomes. The Grand Challenge takes this tough task head on, encouraging us to move beyond three current obstacles and generate evidence that policy makers, practitioners and advocates can use to improve women's lives.
Obstacle Number 1: Measurement of human experiences such as empowerment, safety and household decision making is challenging. In large part, such experiences are seldom translated to tangible outputs or easily observable phenomena from which we can derive comparable measures. Consider the difference between measuring empowerment and measuring whether or not new vaccines for people, crop varieties for farmers or on-line learning tools for students are developed and used. Although measuring vaccine coverage can take considerable effort, for example, it is an experience that people can self-report and that can be accurately measured with a blood sample. In contrast, whether a woman feels more or less empowered or has the agency to make decisions in her own household is subjective and highly contextual. Public health and development professionals know this, but have been slow to innovate by drawing on psychology and sociology to understand empowerment. As well, agencies and M&E professionals need resources to collect and use rich qualitative data to compare experiences across different contexts. We hope this Grand Challenge helps to identify efforts that are at the same time more nuanced and more precise in measuring empowerment. If we know what success looks like, we can focus more intentionally on how to achieve it.
Obstacle Number 2: Changing power dynamics and social norms is tricky. Unlike contraceptives that universally (or almost universally) protect an individual against unintended pregnancy, a program that aims to empower women or girls may negatively affect social dynamics in a community, create inadvertent consequences in households (for example, increased economic opportunities for women may negatively affect household dynamics, even incite violence), or incentivize tokenistic participation of women (appointing a single woman, usually the wife of a powerful man, as a member of local development and planning committees). This Grand Challenges can motivate grantees to take into account the nuanced ways that contextual, cultural, social and household dynamics affect women and girls to ensure that as one dimension of their lives improves, another does not suffer. We hope that applicants will consider how a program designed to increase women's access to financial services can incent men in the same community to value their wives' role in the household so they embrace rather than resist it. Or consider how a program designed to improve girls' education can use conditional material transfers to incent increased value of girls' education. In both these and related examples, we'd need to measure not only the progress made to accomplish outcomes related to financial access or education, but also the changes in understanding, incentives and behavior of men and communities.
Obstacle Number 3: Finally, it is hard to know the best ways to promote gender equity. Doing so implies that we need to design, implement and measure the progress of interventions that can equalize power dynamics between men and women, increase women and girls' access to and control over resources, make them feel safer in society, and enable them to make informed decisions that affect their lives. Current efforts exist but they have either been underfunded or under-evaluated. This Grand Challenges will support projects that can demonstrate, with robust measurement and evaluation approaches, what works best to empower women; how such efforts intersect with health and development outcomes; and what inputs, activities, and processes are needed to design successful programs.
The Grand Challenge announced October 7 can put us on a path to start to overcome these obstacles. We are excited to see applicants propose creative solutions that:
Are based on cross-discipline perspectives, qualitative and quantitative data to help us understand new ways to measure women's empowerment, agency and voice
Are designed based on accurate measurement of women's needs and preferences in a particular context and of the dynamics at play in their communities and households
Are conducive to robust evaluation that tests what works best to improve gender equity, empowerment or the connection between these phenomena and the achievement of development and health outcomes
There is no doubt that the call to action on behalf of women and girls requires a similarly deliberate effort to focus on measuring what matters and not just what can be counted. We are excited about discovering and learning more with our partners and with the global community.