Announcement
Grand Challenges Annual Meeting 2023 to be held in Dakar, Senegal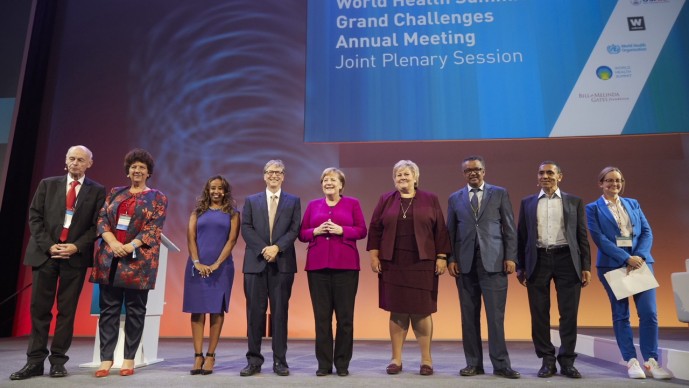 The Grand Challenges family of programs stems from a century-old idea that crowdsourcing solutions to a defined set of unsolved problems can spark innovation and accelerate progress. Today, the Grand Challenges family of initiatives uses Challenges - launched as open requests for grant proposals - to focus attention and effort on solving key global health and development problems for those most in need.
Guided by the belief that we can go further and faster together to achieve our mission, Grand Challenges catalyzes a research and funding network that fosters collaboration among researchers and implementors and alignment of funders. For the last two decades, this community has been gathering at the Grand Challenges Annual Meeting to advance scientific progress and advocate for ongoing investment for global health science and innovation. The meeting is supported by the Bill & Melinda Gates Foundation and its Grand Challenges Partners .
Today, the meeting has become the preeminent forum for global health Research & Development (R&D). It convenes a dynamic community of researchers and practitioners and provides a platform to learn about cutting-edge scientific advances, build new local, regional and global collaborations and explore how to build a more effective, inclusive and equitable ecosystem for global health R&D. 
World leaders – such as European Commission President Ursula von der Leyen, Indian Prime Minister Narendra Modi and Senegalese President Macky Sall – and representatives of the private and philanthropic sectors join with researchers and innovators to shape the future of science, emphasize the value of innovation and move ideas for accelerating R&D from conversation to action. All videos from past meetings can be found here
Under the overall theme of "Science Saves Lives," this year's Grand Challenges Annual Meeting will be held in Dakar, Senegal from 8-11 October to explore how the global health community can expand the frontiers of science and innovation to save and improve lives. Over four days, the meeting will feature a set of more than 15 scientific tracks, three mainstage plenary sessions, more than 20 roundtable discussions, poster sessions, creative moments, and over 100 side meetings focused on how collaboration, scientists and leaders across the R&D space can accelerate innovation for impact. The latest full agenda can be found here.
More than just an event, the Grand Challenges Annual Meeting is also a platform to strengthen and launch partnerships. Many partners announce new funding commitments and grant opportunities. While these are still in development, announcements will include the launch of a Grand Challenges call-for-proposals focused on artificial intelligence funded by a broad set of Grand Challenges partners. This page will be updated with additional content as it becomes available.
This year, Grand Challenges is celebrating its 20th anniversary. In that time, Grand Challenges partners have supported over 3700 projects across more than 115 countries globally. We invite you to read summaries of the grants awarded to date through Grand Challenges initiatives with the Gates Foundation as funder or co-funder and to explore an interactive world map of projects across the broader Grand Challenges funding partner network. This map is filling in over time, increasingly with locally led programs in the countries most affected by global health inequities.
We look forward to convening this global community of problem solvers to explore how we can go further and faster together.