Blog Post
Grand Challenges 2023: Celebrating 20 Years of Science and Community
Kedest Tesfagiorgis, Oct 6, 2023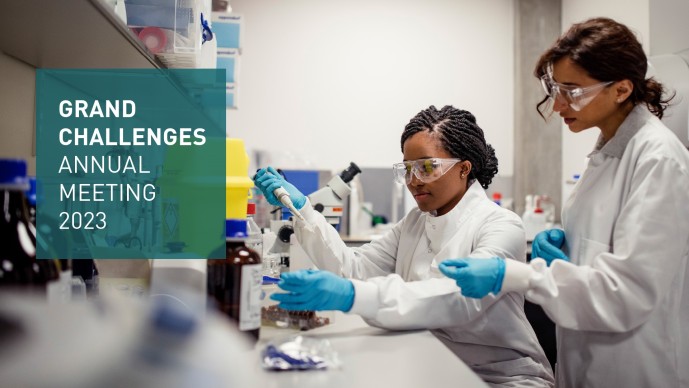 Kedest shares how the initiative funds 4,000 research teams to advance some of the coolest science happening today.
My favorite Bill Gates quote appeared in a Wall Street Journal article about polio eradication in 2010. "Science can simplify the job," he said, "but the human piece is the ultimate test." When it comes to the ongoing fight against polio, those words ring truer than ever today, but to me they capture the essence of everything we're doing at the Gates Foundation to support equitable innovation.
I lead Grand Challenges, the foundation's flagship R&D grantmaking program, which is celebrating its 20th anniversary next month at its annual meeting in Dakar, Senegal. Bill Gates and Melinda French Gates created the initiative in 2003 to encourage more brilliant scientists to think ambitiously about solving global health crises. "It's shocking how little research is directed toward the diseases of the world's poorest countries," Bill said when Grand Challenges was launched. "By harnessing the world's capacity for scientific innovation, I believe we can transform health…and save millions of lives."
When I joined the foundation in 2006, Grand Challenges was funding some of the coolest science I'd ever heard of, like modifying the mosquitoes that transmit malaria so that almost all their offspring—from generation to generation—are male (and therefore unable to spread the disease or give birth to more mosquitoes that transmit malaria).
This "gene drive" project has been going on for 18 years. The science is cutting-edge, and it has been tested successfully in mosquito cages in Italy and the UK. But, as Bill said, the ultimate test will be the human piece. This approach has never been tested in the field, and the idea of modifying mosquitoes to crash their population takes some getting used to. It is no surprise that communities and regulators in malaria-endemic countries where it might be used are eager to learn about the technology, with questions like, what are the benefits and risks? How thoroughly have the trials proven the efficacy of this science? Success now depends on answering those questions to people's satisfaction.
To answer those questions, we need not just scientists in white lab coats who know their way around CRISPR-Cas9, but also local experts who are connected to local institutions, know the community's needs, and understand how to build trust. That's why, over the past decade, the gene drive project has expanded from European labs to African countries, where broad-based teams led by African researchers are preparing for implementation by zeroing in on local entomology, culturally appropriate science communication, and regional regulatory affairs.
To me, this is the real power of Grand Challenges. The science we have funded can change the world. With the guidance of local communities and the relationships we have painstakingly built over 20 years, we will.
How Grand Challenges spurs innovation by fostering community 
Since the beginning, Grand Challenges has been built on the idea of community. We do our work by issuing requests for proposals. That is, instead of telling grantees what we want them to do, we ask them to tell us what they want to do. Take the mosquito project. We said our goal was to incapacitate mosquitoes to stop them from spreading disease. It was a grant applicant who proposed using homing endonuclease genes to decrease the population of female mosquitoes. The intent of Grand Challenges was always to crowdsource solutions to hard problems.
As Grand Challenges evolved, our thinking about community grew more expansive. In 2010, the government of Canada launched Grand Challenges Canada (GCC). It works like the foundation's Grand Challenges program — it issues requests for proposals and funds the most promising ideas — but the money comes from the Canadian government, the requests for proposals are focused on both global and Canadian priorities, and the staff at GCC decide which proposals to fund. In 2012, Brazil became the first middle-income country to launch a Grand Challenges initiative. Grand Challenges Brazil funds Brazilian principal investigators, and its requests for proposals are focused on Brazilian priorities. Then came Grand Challenges India in 2013, and Grand Challenges South Africa, Grand Challenges Africa, and Grand Challenges Ethiopia in 2015. Since then, other countries across Africa and Asia have joined, too.
In short, Grand Challenges is now much bigger than the Gates Foundation. It is a family of independent initiatives with shared values and a shared mission. This proliferation of Grand Challenges programs doesn't just mean more money in the global R&D system (a total of US$1.5 billion as of 2023). It also means that many more of the people who need to work together to achieve impact are part of a single global network. Grand Challenges grants are currently supporting the work of around 4,000 teams of innovators in about 120 countries, plus dozens of funding and research institutions on six continents.
That means the scientists working on gene drive in Burkina Faso have connections to advocates, funders, policymakers, and regulators in Francophone West Africa. They are also working closely with colleagues in the UK and Italy, who are linked to advocates, policymakers, funders, and regulators in northern and southern Europe. Through the Grand Challenges family, the full-time staff that run Grand Challenges initiatives around the world, and the Grand Challenges Annual Meeting, these innovators are no longer working alone in their region and sector; they are part of a shared, sustained project to advance innovation and equity in global health and development.
The human piece is the ultimate test, and getting it right is the only way we will achieve our goals of health and opportunity for everyone. It is also what makes me proudest of Grand Challenges as we celebrate 20 years of work. When we meet in Dakar next week, I am looking forward to running into old friends in the halls, meeting new friends over lunch, and learning from everyone before, during, and after our scientific sessions.
These interactions are what make a healthy scientific enterprise. Thank you to all the Grand Challenges partners from around the world for building the community we all own and share.