Create Low-Cost Cell Phone-Based Applications for Priority Global Health Conditions (Round 5)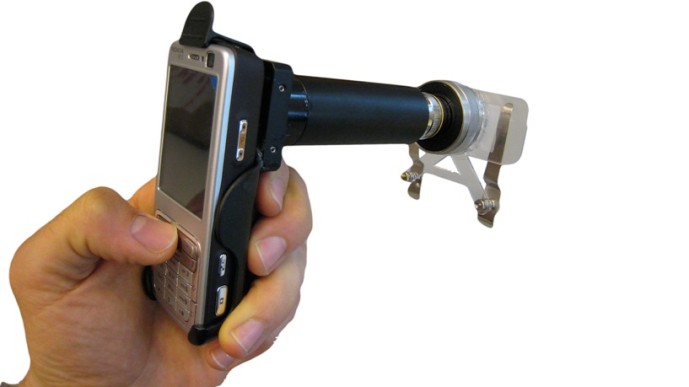 The goal of this topic is to fund innovative cell phone-based applications that support our existing global health priorities: HIV, malaria, tuberculosis, pneumonia, diarrhea, family health, vaccine preventable diseases and other neglected diseases.  We are looking for novel cell phone-based application that support vaccine, drug, diagnostics and other cross cutting activities.
Roadblock:
In developing world settings, information critical for decision making is severely lacking because patients and health care workers are minimally trained and educated, and they have little or no access to point-of-care assessment tools, consulting or other forms of information support.   This lack of information at the individual level means that many health risks, conditions, and illnesses are assessed inaccurately, thus leading to poor or inappropriate treatment.  At the population level, the paucity of data and ground truth about the burden of disease severely hamper efforts by public health officials to make decisions and set policies. 
Possible Solution:
As a solution, we hypothesize that applications enabled by cell-phones could provide accurate information and tools in the hands of the end-users.  The UN predicts that cell-phone ownership will reach 5 billion in 2010, with most growth in the developing world.  This incredible proliferation of cell phones and connectivity offers an unprecedented opportunity to access vast populations, including those previously hard-to-reach populations in rural areas.  Under this GCE topic, we seek proposals that can leverage the cell-phone's penetration to significantly improve health outcomes for the world's poorest people.  The degree of penetration and accessibility of cell phones provides a unique opportunity for practical healthcare applications that will:
Expand access or penetrate more deeply into at risk populations;
Facilitate mobile health care delivery in previously inaccessible or underserved locations;
Improve the overall management of health care delivery at the point of delivery;
Improve the quality of care at an unprecedented level in these locations;
Decrease the cost of global health or medical services.
Thus, cell phone-based healthcare applications could form an essential component for cost-effectively reducing the disease burden in the developing world.
This topic presents an opportunity to harness inter-disciplinary innovation from information technology, engineering, physics, chemistry and biology to create novel, low-cost, easy-to-use class of tools that could be transformative for health care within resource limited settings.
What We Are Looking For:
The goal of this topic is to support innovative cell phone-based applications that have the potential to drastically change how we measure a patient's health condition in developing world settings and/or deliver health care solutions. 
A few of the many options to be considered include: 
Novel cell phone-based solutions for support of effective vaccinations (vaccine delivery, vaccine tracking, data collection, etc);
Cell phone applications to support front-line health care workers;
Cell phone-based diagnostic applications (combination hardware, wetware and software);
Cell phone based algorithms and clinical decision support systems for Global Health applications;
Cell-phone based biometrics for unique patient identification;
Data collection and patient case management application (voiceprompts, instructions, voice-recognition inputs).
The proposed applications should address common technical challenges such as:
Use by non-literate and semi-literate users;
A preference for low cost phones and small screen size;
Unreliable G3 service, limited coverage and connectivity and frequent G2 service as the predominate service available;
Lack of integration into larger health information system (HIS) infrastructure;
Hardware limitations (such as battery life, signal strength);
Scalability and sustainability for widespread deployment.
We will not consider funding for:
The development of technical solutions that will provide only modest or incremental improvements in health outcomes;
The development of a technical improvement with little apparent relevance or impact on one or more of the priority global health strategies of the Foundation;
The development of applications targeted to diagnostics of chronic non-infectious diseases (including diabetes, asthma, cancer, etc), as well as life-style guided applications for weight loss, fitness, etc.;
The development of cell-phone applications that rely exclusively on continuous connectivity;
The development of cell-phone applications that rely on exclusive use of 3G connectivity;
Solutions that simply involve texting a message from a sender to a recipient regardless of the application;
Solutions that cannot be deployed on a low cost phone;
Minor improvements of existing cell-phone-based data collection applications
Minor improvements of existing telemedicine applications.
Grants will be selected on ability to create impact in the context of our existing global health priorities. For more information on The Bill & Melinda Gates Foundation's priority global health conditions, 
please click here.
---