Blog Post
Herding mosquitos, peanut butter antibiotics, and LEDs that guess your age – just a few of the great ideas funded in Grand Challenges Explorations Round 14
Steven Buchsbaum, Rebekah Neal, Jun 8, 2015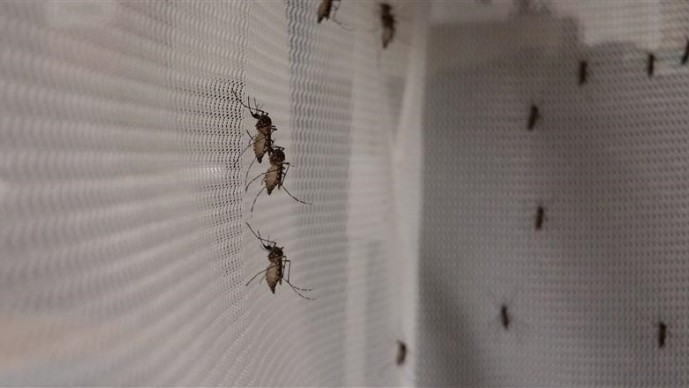 After seven years and 14 rounds of Grand Challenges Explorations (GCE), you might think we're finding the world to be out of big, bold ideas. But the challenge of "One great idea, $100,000 to prove it" continues to strike a chord with innovators around the world. This round, we received over 1,800 applications from 109 countries presenting creative solutions to the six challenges we posed. We are pleased to announce 52 awards to researchers in 19 countries.
Round 14 included four new topics and two repeat topics from Round 13. Two of the new topics asked for your big ideas around mosquitos. The New Approaches for Addressing Outdoor/Residual Malaria Transmission topic sought new tools to reduce malaria transmission via mosquitos biting outdoors to supplement the primarily indoor solutions already in use such as bed nets and indoor residual spraying. The Surveillance Tools, Diagnostics Surveillance Tools and an Artificial Diet to Support New Approaches to Vector Control topic sought to develop a portfolio of ideas in support of the Eliminate Dengue project and other experiments that require breeding, growing, releasing, and monitoring mosquito populations. Examples of exciting solutions in these areas include:
Alexandra Hiscox of Wageningen University and Research Centre in the Netherlands will develop a "push-pull" strategy, effectively "pushing" mosquitos from homes while also "pulling" them toward outdoor traps, preventing malaria transmission

Noel Elman of GearJump Technologies in the US will develop a device to dispense insecticides and mosquito repellents, reducing the need for human contact with toxic chemicals and permitting application in remote sites

Andrew Ellington of The University of Texas at Austin in the U.S. will use pregnancy test strip technology to detect whether mosquitos are carrying human-infecting pathogens such as malaria or dengue

Krijn Paaijmans of the Barcelona Institute for Global Health in Spain will develop and deploy nets made "sticky" with electrical charge to catch live mosquitos in the field
We also asked for your bold ideas to Reduce Pneumonia Fatalities through Timely, Effective Treatment of Children, including new child-friendly amoxicillin formulations that can be used in the developing world, as well as low cost pulse oximeters and oxygen concentrators. And in a new area for GCE, we sought to drive the uptake of digital financial services for the poor with new ideas for Enabling Merchant Acceptance of Mobile Money Payments. Examples of exciting solutions in these areas include:
Pavan Dadlani at Philips Research in the Netherlands will adapt a current respiratory monitor for kids under five to also measure breathing rate and oxygen levels in the blood, key criteria for effectively diagnosing pneumonia

Sangwei Lu from University of California, Berkeley in the U.S. will make a peanut butter-based formulation of amoxicillin to treat pneumonia and improve nutrition in children under five

Michael Oluwagbemi from Loftyinc Allied Partners Limited in Nigeria will test a card reader for mobile phone payments that also includes a bookkeeping function to attract small business owners

Francis Otim of MMINDZS LTD in Uganda will work on an accounting system that makes the acceptance of mobile phone payments easy and straightforward for merchants
In GCE, we typically run topics twice to allow us to learn from the first call and to build a cohesive portfolio around a topic. In Round 14, we re-launched the Explore New Ways to Measure Brain Development and Gestational Age topic and re-emphasized the gestational age component, an area in which we received few proposals in Round 13. We also re-launched the New Ways of Working Together: Integrating Community-Based Interventions topic and modified the call to clearly indicate that solutions must build upon and support existing mass drug administration campaigns. Examples of exciting solutions in these areas include:
Ana Namburete of the University of Oxford in the UK will use machine learning to develop a tool that can estimate gestational age from routine ultrasound images

Two projects looking at optical properties of skin to determine gestational age: Zilma Reis of Universidade Federal de Minas Gerais in Brazil will use LED light, and Christopher Yip of the University of Toronto in Canada will use diffuse optical spectroscopy to determine changes in skin that could help estimate gestational age in newborns

Louis-Albert Tchuem Tchuente of the Centre for Schistosomiasis and Parasitology in Cameroon will integrate current school-based deworming treatments with maternal and child health programs to make sure even kids who aren't in school have access to deworming drugs

Glenn Morris of the University of Florida in the U.S. will look at three existing programs in Haiti – elimination programs for lymphatic filariasis, malaria, and cholera – and how to best integrate those to improve their effectiveness and reduce overall costs
As part of the GCE award, all applicants have one opportunity to apply for additional funding in GCE Phase II for up to an additional $1 million. This spring, we're delighted to announce five new GCE Phase II awards:
Koen Dechering of TropIQ Health Sciences in the Netherlands is continuing the development of a high-throughput assay that uses barcoded bacteria and light-emitting parasites to identify new compounds that specifically block transmission of the malaria parasites to their mosquito hosts

Charles Opperman of North Carolina State University in the U.S. will start field trials in sub-Saharan Africa to test the low-cost biodegradable paper substrate that allows for controlled release of pesticides to kill nematodes, which are root pests. The biodegradable paper seed wrapper was developed during the GCE Phase I award

Chetan Patil of Vanderbilt University in the U.S. will optimize and field test the external filter for camera phones developed during Phase I as a simple, low-cost, and easy to use method for detecting jaundice in newborns

Hossam Haick of Technion - Israel Institute of Technology in Israel will continue to optimize and field test the tuberculosis-diagnosing "bandaid" developed in Phase I to detect biomarkers emitted through the skin for self-diagnosis of TB

R. Paul Johnson of Emory University in the U.S. will use a technique developed during Phase I to identify viral genes in mammalian cells to identify potential biomarkers of latent HIV infection
A full list of GCE projects and grant recipients can be found here.
We continue to be inspired by the momentum of the GCE program. In fact, we are now in the midst of reviewing all the great ideas we received from our Round 15 calls! Applications for the next round of Grand Challenges Explorations will be accepted in September 2015. To receive email updates with the latest grant opportunities for the Grand Challenges family of programs, sign-up here