Blog Post
Ending the Pandemic Threat: A Grand Challenge for Universal Influenza Vaccine Development
Keith Klugman, May 29, 2018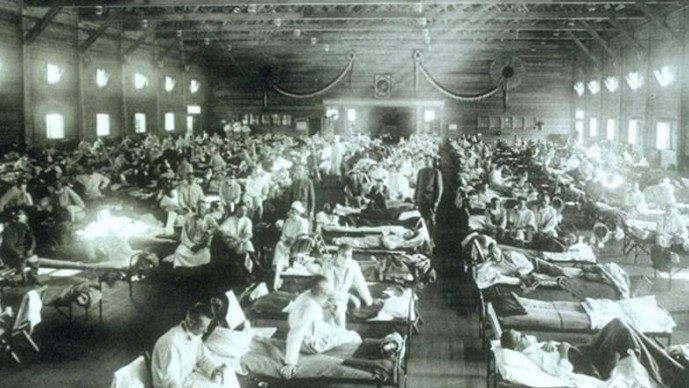 One hundred years ago, a man named Albert Mitchell, a mess cook at Fort Riley, Kansas, came down with a bug. That bug was among the very first of a new strain of influenza that within two years would kill an estimated 50 million people - more than the total number who died in the war in which Albert Mitchell was serving, World War I. It was named the Spanish Flu even though it probably arose in Kansas.
In cemeteries around the world, you will come across Spanish Flu sections where rows and rows and rows of headstones, many marking the graves of children, attest to the horror of 1918, 1919, and 1920.
While it's a relief that we've gone a century without another flu epidemic of that magnitude, that relief may not last forever. In the present day, seasonal flu still kills between 290,000 and 650,000 people annually. The risk of a serious flu pandemic in the next 20 years is significant – and what used to be a five-day ocean voyage is now a five-hour flight, so the next one is likely to spread much farther, much faster. The world is not ready to meet this challenge.
One of the most important things we can do to get ready is develop a game-changing flu vaccine that can stop a pandemic before it starts. That is why our foundation, in partnership with the Page family, has issued a $12 million Grand Challenge to catalyze development of radically more effective influenza vaccines.
Our current flu vaccine, aside from minor adjustments each year to keep up with changes in the virus, is basically the same one we've had for decades, and it's inadequate. To prevent a deadly flu pandemic, we need a vaccine that's effective for years against all strains of the virus. That is our goal for the Grand Challenge for Universal Influenza Vaccine Development: to end the pandemic threat.
We hope to encourage innovators from a range of fields - many of whom have never worked on flu before - to conceive of wholly novel ways to approach the problem. Once scientists respond to this Grand Challenges call for proposals, we are looking to make pilot awards of up to $2 million to be used as seed funding to test radical concepts.
In the next phase, we expect that the most promising candidates will be invited to apply for the additional funding necessary to support further clinical development, either directly from us or from partners we work with who are also passionate about creating a new flu vaccine. Our $12 million Grand Challenge is only the beginning. We remain confident that good ideas that generate evidence will have the opportunity to be taken forward by the community of public and private funders focused on pandemic preparedness.
We hope that this unique, phased funding opportunity will provide the spark that will accelerate the development of game-changing universal influenza vaccines.
There are a lot of potential disasters to worry about, but a global pandemic is one of the worst: bringing devastation and death to every corner of the world. The price tag could be measured in the tens of millions of lives and trillions of dollars. Given that we're dealing with a disease that already kills more than a quarter of a million people every year, we need to push the envelope and encourage experimentation. We hope our global call for innovative approaches to influenza vaccines will prompt the breakthrough that will make the world a safer place.
Letters of inquiry describing universal flu vaccine concepts are due by June 22, 2018 through the Grand Challenges website.